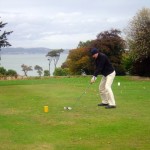 Here is a listing of public golf courses around Rochester and Monroe County.   The courses listed on this page are all open to the public.   Some of them regularly take walk-on golfers, but it is advised that you call ahead for tee times to make sure.   The top listings are 18 hole courses with some of them having more than 18 holes.  The bottom listings are 9 hole Par 3 style courses in the area.    We have a separate page in the directory that has a list of the private golf courses around Rochester.
18 Hole Public Courses
Timber Ridge Golf Club
7061 W Ridge Rd
Brockport, NY 14420
(585) 637-2582
Braemar Country Club
4707 Ridge Rd. West
Spencerport, NY 14559
(585) 352-5360
Deerfield Country Club
100 Craig Hill Dr
Brockport, NY 14420
(585) 392-8080
info@deerfieldcc.com
Churchville Golf Course (27 holes)
643 Kendall Rd
Churchville, NY 14428
(585)293-0680
Genesee Valley Golf Club 36 Holes (2 full 18 hole courses)
1000 East River Road
Rochester, NY 14623
(585)424-2920
info@golftheparks.com
Mill Creek Golf Club
128 Cedars Ave
Churchville, NY 14428
(585) 889-4110
Cragie Brae Golf Club
4391 Union Street
Scottsville, NY 14546-9731
(585) 889-1440
Wild Wood Country Club
1201 Rush West Rush Rd
Rush, NY 14543
(585) 334-5860
Eagle Vale Golf Club
4344 Nine Mile Point Road
Fairport, NY 14450
(585) 377-5200 ?
Shadow Lake
1850 Five Mile Line Road
Penfield, NY 14526
585-234-4653
Shadow Pines
600 Whalen Road
Penfield, NY 14526
(585) 385-8550
Lake Shore Country Club
1165 Greenleaf Rd
Rochester, NY 14612
(585) 663-9100
Membership@LakeShore-CC.com
Webster East & West Golf Courses (36 Holes)
440 Salt Rd
Webster, NY 14580
(585) 265-1920
Buttonwood Golf Course (18 hole par-3)
600 Trimmer Rd
Spencerport, NY 14559
(585) 352-4720
buttonwoodgolf@hotmail.com
Twin Hills Golf Course
5719 W Ridge Rd
Spencerport, NY 14559
(585) 352-4800
Chili Country Club
760 Scottsville-Chili Road
Scottsville, NY 14546
(585) 889-9325
Brockport Golf Club
3739 County Line Rd
Brockport, NY 14420
(585) 638-2266
9 Hole Courses (usually Par 3 courses)
Pinewood Country Club
1189 Ogden Parma Townline Rd
Spencerport, NY 14559
(585) 352-5314
Latta Lea Golf Club
435 Latta Rd
Rochester, NY 14612
(585) 663-9440
Mill Creek Short Course
670 Hosmer Rd (right next to the 18 hole Mill Creek course)
Churchville, NY 14428
(585) 889-0739
Riverton Golf Club
514 Scottsville W Henrietta Rd
West Henrietta, NY 14586
(585) 334-6196
Southern Meadows
1025 Rush Scottsville Rd
Rush, NY 14543
(585) 533-2440
southernmeadows.9hole@gmail.com
Woodcliff Golf Course
199 Woodcliff Drive
Fairport, NY 14450
(585) 381-3000